By Bee Shapiro
Ziggy Marley, the eldest son of the reggae icon Bob Marley and Rita Marley, isn't letting the pandemic get in the way of his music. Since March, he has been hunkered down at his Mediterranean-style home in the Toluca Lake section of Los Angeles with his wife Orly Marley, four children — Judah, Gideon, Abraham and Isaiah — and new puppy, Romeo. His eighth studio album called, appropriately enough, "More Family Time," drops Sept. 18. And since he won't be touring anytime soon, here's how he is spending his time. (This interview has been edited and condensed.)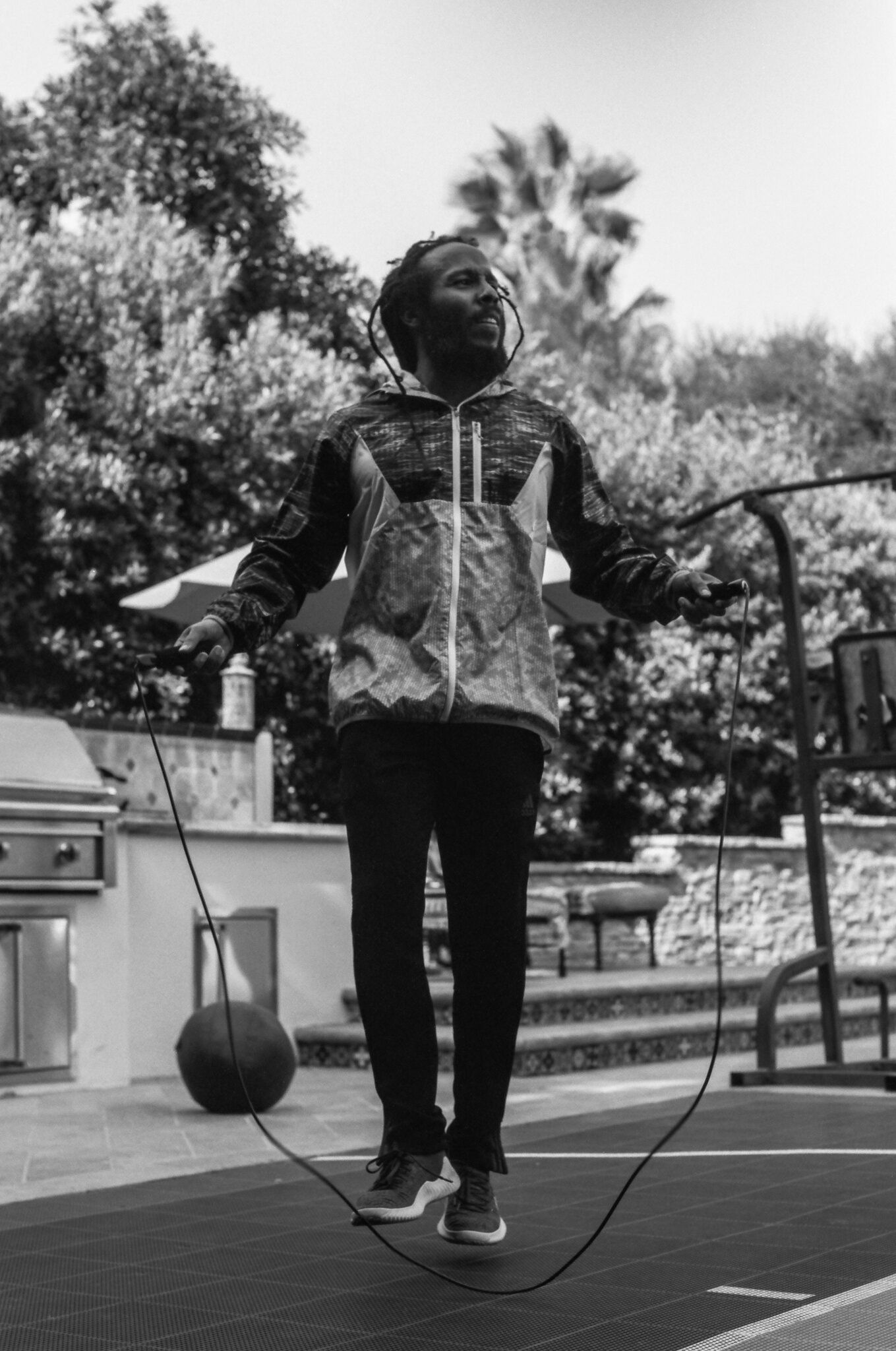 Ziggy Marley stays active while in lockdown at his home in the Toluca Lake section of Los Angeles.Credit...Jamil Baldwin for The New York Times
Morning Sunshine
Mostly I wake up whenever I wake up. We have a new dog though, and sometimes he's waking up early to go outside.
Skipping Meals
We've been doing intermittent fasting without knowing it was called intermittent fasting for a while. Now it's become a thing. I don't have to eat certain foods but I do eat a lot of vegetables and I don't eat red meat. Sometimes I'll get a protein shake. I trust the Garden of Life stuff. But mostly, I eat when I'm hungry. Sometimes, I can do fine on one meal a day.
Inner Child
One of my key thoughts is: Keep an open mind. If you can do this, it's really refreshing. It refreshes you. Your body gets tired, you rest. Your mind needs to be refreshed too. But your mind has to be open to receive your refreshment. This is how I think about staying creative.
Freestyle Exercise
I've always worked out. I grew up very active, running the mountains and such. Nobody had to tell me to do it. I just did it. My father was a fit exerciser. My mother was a fit exerciser. Since the pandemic though, I have a different mind-set. Don't structure it.
Custom Skin Care
I use a soap for my face from Olga Lorencin skin care. She's a friend of ours and she does things very naturally. I use moisturizer from her, too. Sometimes, she makes some special ones for just me and my wife.
Pandemic Wear
Today I put on jeans. I probably haven't put on jeans in weeks. I've been in shorts and sweatsuits mostly. I have my favorite T-shirts I like. If they are there, washed, I always put on those. I think I like gray. I've been wearing a lot of gray. I've never been a brand person. I don't care that much. I just go with what works. It's what feels good.
Staying Zen
What I've been doing is rolling with the punches. We're not fighting against it. Instead, this is what's happening. This is a part of life right now; let's live it like that for a while and see what happens. I'm adaptable about this stuff. I don't really miss anything. I'm not sentimental and I'm not attached to things. I've always been a loner person anyway. I'm not a going-out type of person. I don't party here or there, so maybe I'm more adaptable to this situation to begin with.
Baby Talk
This time has affected my life positively with my family. We've never been together for so long in one place. During this time, it dawned on me: kids spend more time away from home, at school, than with the parents. It's a blessing in a way that I can have them here now. It's a positive and they inspired the music I made.This album, I heard my son, who's now 4 years old, say "Goo Goo Ga Ga" at one point. That started my mind spinning. All right let's make a song about it. Now I have a song on the album called "Goo Goo Ga Ga."